Welcome to Amadeus
Your professional inbound Travel Agency
for Costa Rica roundtrips
Amadeus Travel Agency is a multi-award winning inbound travel agency
and Destination Management Company based in Costa Rica.
We have been offering memorable group and individual roundtrips in Costa Rica
for over 29 years and have been under Austrian management from the very beginning.
Sustainability and ecological viability are at the heart of our philosophy.
Costa Rica is a natural paradise that must be preserved.
An essential part of our activity is the creation and support of local social projects. 
It is of great importance to us that all journeys are carried out with the highest professionalism,
maximum flexibility and exceptional human and cultural sensitivity.
Adventure, nature experiences and cultural encounters are the center of our Costa Rica roundtrips.
We are experts for group and individual itineraries in Costa Rica, Nicaragua and Panama.
Top 5 Tours
Tours best rated from client feedback
Top 5 Hotels
Hotels best rated from client feedback
TOP 5 PHOTO GALLERIES
The most visited Photo-Galleries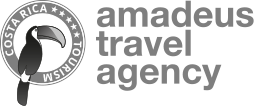 We would like to thank all our guests who have been travelling with us since 1994 in the most beautiful time of the year - their well-deserved holidays. When developing itineraries for groups and individual travelers, selecting our local service partners and caring about the well-being of our guests, we always focus on the highest possible quality standards. Since the founding of Amadeus Travel, we have been committed to sustainable tourism as the only long-term viable form of tourism, e.g. through our social commitment, visiting and supporting private and state nature reserves as well as the training of our team and experienced, fully licenced tour guides.