Book Now
Height: 1.500m - 3.820m
Open: San Gerardo Daily 8 a.m. - 4 p.m.
Park admission until 12 noon, otherwise the refuge can not be reached in time.
Info: Registration at San Isidro is recommended: Tel: 771 3155
At the centre of the Chirripó national park is Cerro Chirripó, the highest mountain in Costa Rica. With an altitude of 3820 metres the night time temperatures can often fall bellow zero. The cold winds combined with the rocky soil permit only the sparse vegetation of the Paramó. Hardy grasses, braids and small shrubs can be found amongst bizarre rock formations. Crystal-clear glacial lakes mark this vegetation zone which normally, can only be found in the Andes of South America. Wild animals such as puma, ocelot and tapir habitat this national park. If you want to climb the Cerro Chirripó you must first register with the Chirripó national park administration. You should be in excellent health and supported with first class equipment.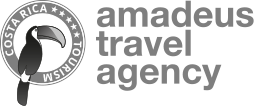 Celebrating our 25th anniversary Amadeus Travel CR wants to use this opportunity to thank all our customers for travelling with us. We feel very pleased with the honor to have received the highest possible certification regarding sustainable tourism by the National Tourism Institute of Costa Rica. It encourages us to achieve the highest possible standards in terms of the quality of our tours and the education and training of our team.