Book Now
Height: 1.500m - 3.820m
Open: San Gerardo Daily 8 a.m. - 4 p.m.
Park admission until 12 noon, otherwise the refuge can not be reached in time.
Info: Registration at San Isidro is recommended: Tel: 771 3155
At the centre of the Chirripó national park is Cerro Chirripó, the highest mountain in Costa Rica. With an altitude of 3820 metres the night time temperatures can often fall bellow zero. The cold winds combined with the rocky soil permit only the sparse vegetation of the Paramó. Hardy grasses, braids and small shrubs can be found amongst bizarre rock formations. Crystal-clear glacial lakes mark this vegetation zone which normally, can only be found in the Andes of South America. Wild animals such as puma, ocelot and tapir habitat this national park. If you want to climb the Cerro Chirripó you must first register with the Chirripó national park administration. You should be in excellent health and supported with first class equipment.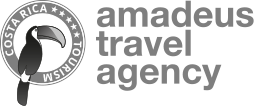 We would like to thank all our guests who have been travelling with us since 1994 in the most beautiful time of the year - their well-deserved holidays. When developing itineraries for groups and individual travelers, selecting our local service partners and caring about the well-being of our guests, we always focus on the highest possible quality standards. Since the founding of Amadeus Travel, we have been committed to sustainable tourism as the only long-term viable form of tourism, e.g. through our social commitment, visiting and supporting private and state nature reserves as well as the training of our team and experienced, fully licenced tour guides.