The Ticos
This is what Costa Ricans affectionately call themselves.
We have complied Interviews with Cost Rican opinion leaders from politics, tourism and the arts & music.
Here you can watch and hear what Ticos have to say about their own country.
Interview with Epsy Campell, 
Member of Parliament and member of the ruling party PAC.

Interview with Glenn Janpoll
Owner of the Finca Rosa Blanca Hotel & former President von CANAECO 
Interview  with Sasha Campell
Singer & TV Announcer 
Interview  with Laura Arguedas
Consultant in the field of Sustainable Tourism 
You would like to know more about the people of Costa Rica?
Then please visit our page The Costa Ricans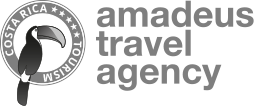 Celebrating our 25th anniversary Amadeus Travel CR wants to use this opportunity to thank all our customers for travelling with us. We feel very pleased with the honor to have received the highest possible certification regarding sustainable tourism by the National Tourism Institute of Costa Rica. It encourages us to achieve the highest possible standards in terms of the quality of our tours and the education and training of our team.