The Ticos
This is what Costa Ricans affectionately call themselves.
We have complied Interviews with Cost Rican opinion leaders from politics, tourism and the arts & music.
Here you can watch and hear what Ticos have to say about their own country.
Interview with Epsy Campell, 
Member of Parliament and member of the ruling party PAC.

Interview with Glenn Janpoll
Owner of the Finca Rosa Blanca Hotel & former President von CANAECO 
Interview  with Sasha Campell
Singer & TV Announcer 
Interview  with Laura Arguedas
Consultant in the field of Sustainable Tourism 
You would like to know more about the people of Costa Rica?
Then please visit our page The Costa Ricans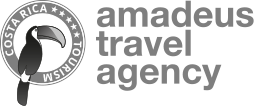 We would like to thank all our guests who have been travelling with us since 1994 in the most beautiful time of the year - their well-deserved holidays. When developing itineraries for groups and individual travelers, selecting our local service partners and caring about the well-being of our guests, we always focus on the highest possible quality standards. Since the founding of Amadeus Travel, we have been committed to sustainable tourism as the only long-term viable form of tourism, e.g. through our social commitment, visiting and supporting private and state nature reserves as well as the training of our team and experienced, fully licenced tour guides.