Book Now
From bankers and hat weavers, to beaches and rainforests:
Panama experienced the largest economic upswing in its history with the construction of the monumental Panama Canal. As through the "Eye of a Needle" in a physical sense, the town centre both displays the wealth, the poverty and the cultures of the indigenous Latinos, North Americans and Europeans. Nostalgia from the colonial past mixed with a feeling for the modern life in the banking and hotel centre. A city full of contrasts, a city full of varieties.
Tropical rainforests and the influence of the Caribbean envelope the country. The east, with its hardly opened province of Darién. Along the Panama Canal, the economical lifeblood, one finds in the middle of lake Gatun probably the most scientifically investigated rainforest in the world. The island Barro Colorado - a paradise for nature lovers and particularly bird observers. On the Pacific side of the central mountain chain drying forests and savannahs. The bird of paradise, Bocas del Toro and San Blow fulfil our longings for long white sandy beaches and a clear azure blue sea.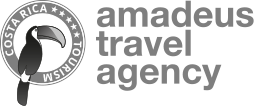 We would like to thank all our guests who have been travelling with us since 1994 in the most beautiful time of the year - their well-deserved holidays. When developing itineraries for groups and individual travelers, selecting our local service partners and caring about the well-being of our guests, we always focus on the highest possible quality standards. Since the founding of Amadeus Travel, we have been committed to sustainable tourism as the only long-term viable form of tourism, e.g. through our social commitment, visiting and supporting private and state nature reserves as well as the training of our team and experienced, fully licenced tour guides.