Book Now


Area: 2.309 ha
Height: approx. 2.700m -3.432m
Rainfall: 2.000 mm/year
Founded: 30.7.1955
Open: Daily from 8:30 a.m. - 3:30 p.m.
Info: Tel 2551 9398
With an altitude of 3.432 m, the Irazú is the highest active volcano in Costa Rica. On clear days it is possible to see both the Pacific ocean and the Caribbean sea from its summit.
Very impressive is the view into the main crater with its vivid green lake, its steep slopes made of volcanic stones and ash.

Irazú is a two hour drive from San José, passing through the old capital Cartago. From here passing fruit and vegetable plantations a good paved road leads you to the volcano crater.
Don´t forget to bring a pair of good walking shoes, warm clothes and a good sun blocker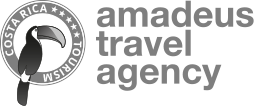 We would like to thank all our guests who have been travelling with us since 1994 in the most beautiful time of the year - their well-deserved holidays. When developing itineraries for groups and individual travelers, selecting our local service partners and caring about the well-being of our guests, we always focus on the highest possible quality standards. Since the founding of Amadeus Travel, we have been committed to sustainable tourism as the only long-term viable form of tourism, e.g. through our social commitment, visiting and supporting private and state nature reserves as well as the training of our team and experienced, fully licenced tour guides.