Book Now


Area: 2.309 ha
Height: approx. 2.700m -3.432m
Rainfall: 2.000 mm/year
Founded: 30.7.1955
Open: Daily from 8:30 a.m. - 3:30 p.m.
Info: Tel 2551 9398
With an altitude of 3.432 m, the Irazú is the highest active volcano in Costa Rica. On clear days it is possible to see both the Pacific ocean and the Caribbean sea from its summit.
Very impressive is the view into the main crater with its vivid green lake, its steep slopes made of volcanic stones and ash.

Irazú is a two hour drive from San José, passing through the old capital Cartago. From here passing fruit and vegetable plantations a good paved road leads you to the volcano crater.
Don´t forget to bring a pair of good walking shoes, warm clothes and a good sun blocker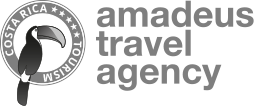 Celebrating our 25th anniversary Amadeus Travel CR wants to use this opportunity to thank all our customers for travelling with us. We feel very pleased with the honor to have received the highest possible certification regarding sustainable tourism by the National Tourism Institute of Costa Rica. It encourages us to achieve the highest possible standards in terms of the quality of our tours and the education and training of our team.