Book Now
Area: 10.500 ha
Height: 900 - 1.690 m
Rainfall: 2.500 mm/year
Open: Daily  7 a.m. to 4 p.m. (max. 120 guests at one time!)
Info: Tel 645 5212
Strain your ears to the calls from a wide variety of birds whose habitat is the cloud forest close to Monteverde. Monteverde, a small village founded by Quakers, whose religion has a strong bond to nature. The local guides are pleased to introduce you to the secrets of plants and animals in this area, and if you are lucky you can spot the legendary Quetzal the holy bird of the Aztecs. The conservation area has two entrances, the popular Monteverde entrance and a second at St. Elena.
The conservation area has well marked paths. The "skywalk", a system of suspension bridges offers you a breathtaking if somewhat dizzy view over the canopy of the Monteverde cloud forest . By actually walking through the cloud forest canopy you are able to enjoy the cloud forest from another perspective. Another way to discover this part of the cloud forest is the "skytrek". With this adventure the old dream of being able to fly can be realised. On a system of steel cables which are stretched across small valleys, from one huge tree to the next, you can "fly"(zip) through the evergreen canopy.

Other attractions in the area are a butterfly farm, which offers you a colourful insight to these beautiful creatures. There are also cultural events such as concerts and art exhibitions.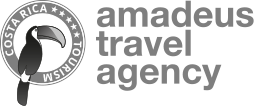 We would like to thank all our guests who have been travelling with us since 1994 in the most beautiful time of the year - their well-deserved holidays. When developing itineraries for groups and individual travelers, selecting our local service partners and caring about the well-being of our guests, we always focus on the highest possible quality standards. Since the founding of Amadeus Travel, we have been committed to sustainable tourism as the only long-term viable form of tourism, e.g. through our social commitment, visiting and supporting private and state nature reserves as well as the training of our team and experienced, fully licenced tour guides.