Book Now
Beach lovers will be truly satisfied with the Pacific coast of Costa Rica. Here everyone can find there ideal beach, from the lonely isolated beaches on the Osa peninsula to the popular beach resorts like Manuel Antonio, Tamarindo, Playa Flamingo and the Golfo Papagallo in the province of Guanacaste.
The Pacific ocean, with a constant water temperature of 28°Celsius one can swim and play in the ocean the whole day. Sports like scuba diving, snorkelling, water bikes, surfing and many more are offered at several beach resorts in Costa Rica. Strong tidal currents are quite common, we recommend checking with your hotel or the locals before taking a swim. A Pacific ocean sunset, what better way to conclude a wonderful day on the beach. For ethical reasons we do not promote sport fishing.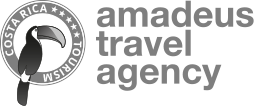 We would like to thank all our guests who have been travelling with us since 1994 in the most beautiful time of the year - their well-deserved holidays. When developing itineraries for groups and individual travelers, selecting our local service partners and caring about the well-being of our guests, we always focus on the highest possible quality standards. Since the founding of Amadeus Travel, we have been committed to sustainable tourism as the only long-term viable form of tourism, e.g. through our social commitment, visiting and supporting private and state nature reserves as well as the training of our team and experienced, fully licenced tour guides.