Book Now
One entry requirement is the completion of this online Health Pass, before your departure to Costa Rica:
https://salud.go.cr/
(to be opened in an updated Chrome, Firefox, Safari, Opera or Brave browser)
Switch to English in the right upper corner, default is Spanish.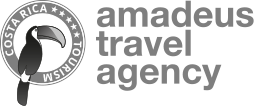 Celebrating our 25th anniversary Amadeus Travel CR wants to use this opportunity to thank all our customers for travelling with us. We feel very pleased with the honor to have received the highest possible certification regarding sustainable tourism by the National Tourism Institute of Costa Rica. It encourages us to achieve the highest possible standards in terms of the quality of our tours and the education and training of our team.